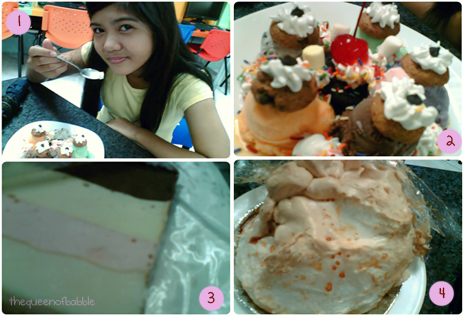 We went bonding today! After hours of welcoming and collecting fees from the incoming MassCom freshies, we went to Panda to get some ice cream! I insisted my sister should get the fried ice cream thing but she didn't want to so she had the cookies and cream thing.
In the picture: (1) My sister eating everything, including our food! (2) The earthquake cookies and cream thing (3) My ice cream cake, I wonder how they made that thing it was cake-y but it's ice cream. (4) Treasure Mountain which we thought would be a good pick me upper after a break-up or a long exam, you have to eat it while listening to Miley Cyrus's The Climb though and yeah it has Leche Flan inside! I think the Leche Flan is the 'treasure' haha!
I had so much fun bonding with my good friend Iresse (our Ms. MassCom who had to run to the oval after eating to burn the calories) and my sister, she loves ice cream too much.
<

After eating too much at Panda my sister and I went to the mall para magpahangin and then we found ourselves inside Booksale where we bought 2 new babies. Writing from the Body by John Lee for me because I need it as a Mass Communication student and the thriller novel Into the Garden by V.C. Andrews for my sister.